HOW DO SCARS FORM?
Scars form as part of the body's natural healing process. When the dermis is damaged, your body forms collagen fibers to repair the damage, resulting in a scar. The collagen that builds up where the tissue is damaged, helps to heal and strengthen the wound. New collagen continues forming for several months and the blood supply increases, causing the scar to become raised and lumpy. In most cases, the faster a wound heals, the less collagen will be deposited, and the less noticeable the scar will be. Several treatments can make scars less noticeable and improve their appearance when treated in the early stages.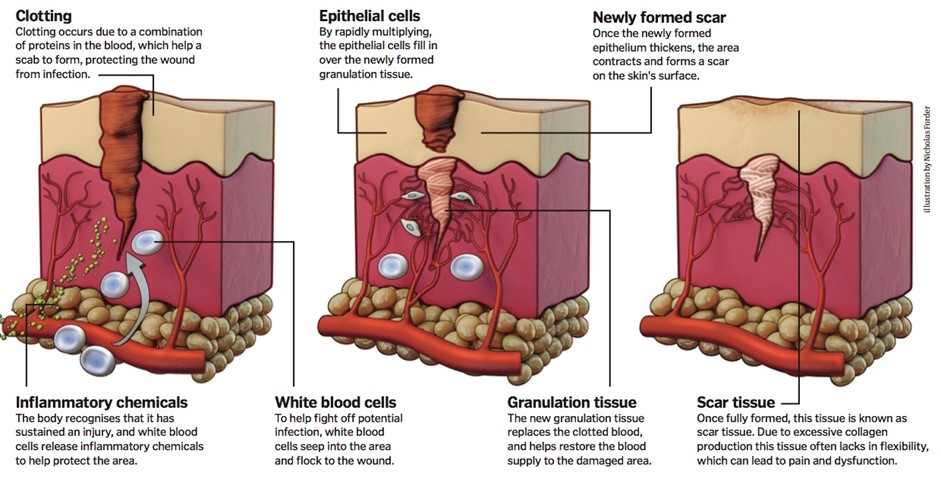 Copyright: www.howitworksdaily.com
HOW TO HELP HEAL SCAR TISSUE?
Scar tissue may only be superficial or involve the deeper tissues beneath the skin. After the skin and deeper tissues have healed (no open wound or stitches), the scar goes through four different stages of healing. A scar will often enlarge and become more reddened over the next few weeks. An active scar is typically red, raised, firm, and thick. This is the best stage to start treating a scar to prevent any further collagen buildup.
Complete scar removal is impossible, but most scars will gradually fade with stimulation.
Numerous ways may improve a scar's appearance and help make it less visible over time. To name a few:
Once a wound has healed, gently massaging the scar may help. It breaks up the collagen building in the tissue underneath. Massaging can stretch and relax the tissue that has formed, which helps improve the scar's texture and flatness.
https://dercarange.com/product/gold-elixir-oil/
 Many small puncture holes are made into the superficial skin to stimulate collagen production and even introduce collagen stimulators or other products to try to reduce the appearance of scars.
https://dercarange.com/product/skin-renew-serum/
A chemical peel can help by removing the top layers of skin to get rid of surface scars and bring deeper scars closer to the surface. When the build-up of dead skin cells is removed the new skin may temporarily be reddish, sore, or swollen. Applying a topical treatment while new skin is exposed increases cellular turnover, improving the appearance of the scar and assisting with wound healing.
https://dercarange.com/product/aha-home-peel-kit/
https://dercarange.com/product/scar-repair-serum-50ml/
Increasing cellular turnover is key!
The formulation of our SCAR REPAIR SERUM contains Vitamin A, Lavender, and Rosemary extracts which are well-known for their benefits of increasing cell turnover, speeding up the healing process, and Niacinamide improving dark spots. Vitamin E is a natural skin conditioner with hydrating properties, it reduces inflammation, aids with wound healing, and strengthens the skin barrier making it a perfect ingredient to assist dryness.
https://dercarange.com/product/scar-repair-serum-50ml/
SCAR REPAIR SERUM BENEFITS :
Improves the appearance of recent scars
Increases cell turnover
Increases healing of breakouts
Repairs skin barrier function
Lightens dark marks
Reduces inflammation
Improves blood circulation
Soothes and calms skin